2015, Casa Milio, Ficarra, Italy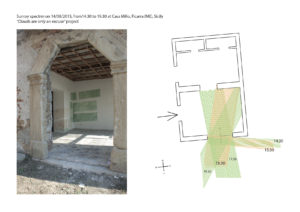 From a large shop's window at Casa Milio, during August direct sunlights on walls are able to cover a period of time ranging from 14:35 until after 20:00.Sun's rays project on five different walls of the room. The project aims to gain the experience of high definition digital technology through painting.
The choice of the fresco was essential to get a completely integrated environment. The result is an annual appointment. Every 14th of August the direct rays of the sun will go back to reposition themselves on the shapes recorded on 2015 on the walls. Space, time and a source of light that can reach 100,000 lx become a performance device questioning on the definition's experience and nature's screen. The work is set in this private space for a year. Not knowing the future of the work, it come with his birth chart to identify the character, the potential, the fate and a probable future.