solo show, curated by Francesco Lucifora
2017, MAS Modica Art System, Maria del Gesu' Modica, Italy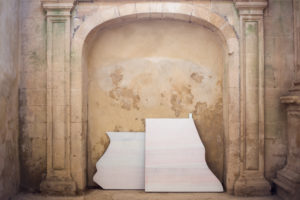 Temperatures slightly below standard, took place within the Monumental Complex of Santa Maria del Gesù in Modica. Used in the last decades as part of Modica prison, this fascinating architectural structure started to be accessible to the public only from 2016. It is also located few meters away from where I was born and lived. Actually, the project started with a sense of strangeness and difficulty, trying to accept this enormous space inside a familiar panorama and also in the local history of art.
My approach was deliberately the ones a contemporary investor can come up questioning how make money out of this huge space. In this way, I decided to work with plasterboard in the lateral chapel, as if I could divide the space and transforming it in a more comfortable and contemporary living space, house.
I created plasterboard pieces giving the sensation that the transformations was on going, installing some of them on the wall, Temperatures Slightly Below Standard (pillars) are one example, and leaving others just lean against the wall as if they could be ready to be install.
Every piece comes with a colored pencil drawing. I registered those with an app called Pantone, that it is able recognizes the main five colors of a picture. For two weeks I took pictures of the monumental structure in different moments of the day, after I inserted all of these colors on the plasterboard panel creating the geometrical drawing able to return the color's temperatures and atmospheres of that days.